Try out this savory and healthiest sweet potato recipe. A recipe for a quick, low-carb dinner. This vegan sweet potato recipe uses white sweet potatoes with butternut squash. It's deliciously spiced creating a rich comforting side dish that will leave you wanting more...
There are those moments when you just want to fix a meal that's quick, easy, and healthy, something not too elaborated but really delicious. This healthy sweet potato recipe checks all the boxes.
Cook this white sweet potato recipe in a skillet with just a few ingredients and for a short time, instead of baking it. It'll save you time as well as reduce the loss of vitamins. You can't go wrong with this vitamin A-rich sweet potato recipe.
This savory sweet potato recipe is a low carb meal with anti-inflammatory components, which makes this recipe a must-add to your weight loss program as well as in an anti-inflammatory diet.
Sweet potato recipe will be your best bet when looking for a healthy recipe to substitute for your normal potato side dishes. It's high in fiber, low Glycemic Index, high in vitamin A, potassium, manganese, and some vitamin Bs.
Surprise your guests with this simple yet healthy sweet potato recipe for dinner, I am sure they'll be asking for the recipe at the end.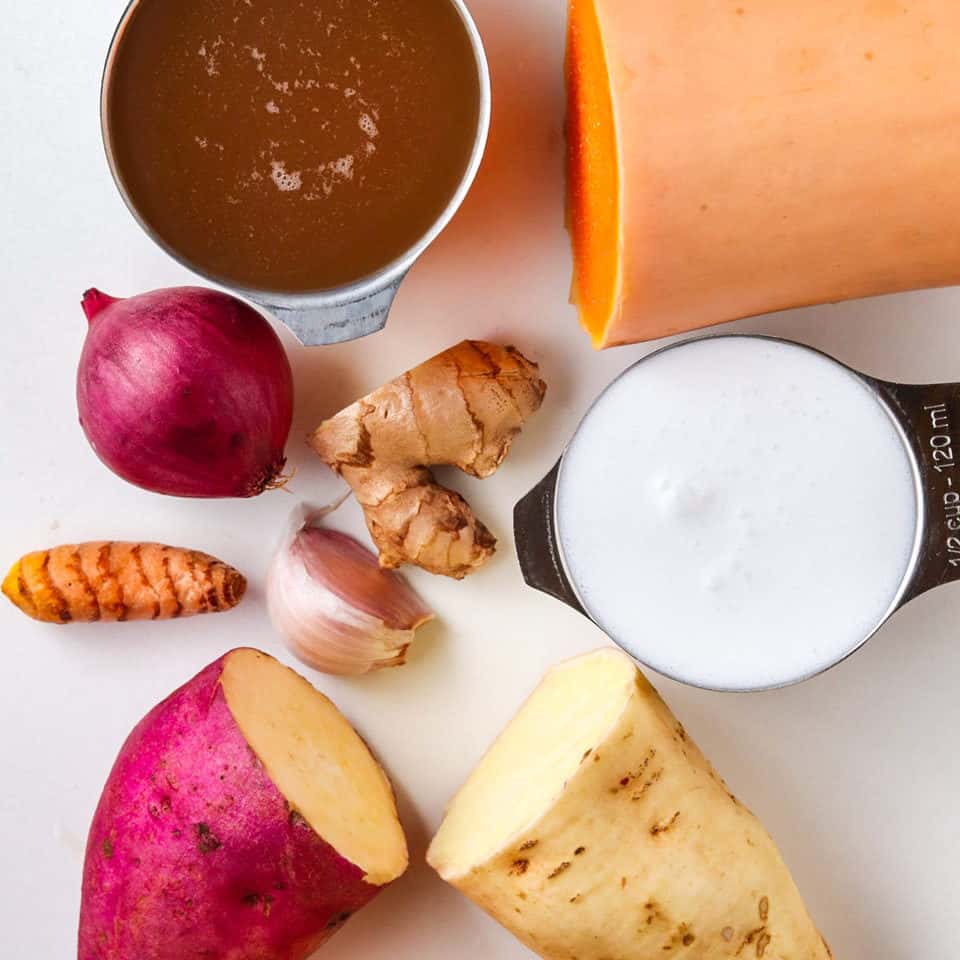 What do I need to make this healthy sweet potato recipe
You'll need white & orange sweet potatoes
A butternut squash
Vegetable broth
Coconut milk
spices
Onions, garlic, ginger, and turmeric (fresh)
How to cook this sweet potato recipe
This savory sweet potato side dish is simple, just cook your spices with onions as you'd cook any other recipes. Then slice the butternut squash into medallions and spread them to cover the onions.
Slicing butternut squash will demand you some efforts and especially if your hands are painful. If you have a mandoline it'd be perfect. Having a sharp chef's knife is the way to go, otherwise, shapes don't really matter, do they?
You'll need to slice the butternut and the sweet potato at about ½ cm large, not too thick not too thin slices.
Let the butternut squash cook for a while before covering them with sweet potatoes and cook them in a vegetable broth then add coconut milk when they're have cooked. See the recipe card for more details.
How to store this sweet potato recipe
You can make a batch of this healthy sweet potato recipe and store it in an airtight food container for up to 5 days. Just heat it before serving...
Have you ever cooked with white potatoes before? Join me in comments and let's share our views.
Thank you for pinning this recipe on a healthy/vegan board on Pinterest. Share it with your friends on Facebook and elsewhere.
Happy cooking, talk to you soon.
My love to you, Githu.
Check these sweet potato recipes
The best and healthiest sweet potato recipe
Try out this simple, savory, the best, and healthiest sweet potato recipe. A recipe for a quick, low-carb dinner. This vegan sweet potato recipe is using white sweet potatoes with butternut squash.
Equipment
A large pan

A sharp chef's knife or a mandoline

A chopping board
Ingredients
1

tablespoon

mixed spices of your choice, here I used; Indian curry, sweet paprika, smoked paprika, cayenne pepper, nutmeg, & cumin

3

cloves of garlic

1

piece of fresh ginger

1

a root of fresh turmeric

3

small onions

2

tablespoon

cold pressed olive oil

salt

10

slices

butternut squash (the long part without seeds)

1

white sweet potato (long medium size)

1

orange sweet potato (long medium size)

1

cup

vegetable broth

1

cup

coconut milk

fresh herbs of your choice (optional)
Instructions
In the pan bring the grounded spices and set them to heat at a medium-low heat as you dice the onions

Dice the onions, grate ginger, turmeric, and garlic. Bring them in the pan and increase the heat to medium, add the oil, stir together, and cover to cook as you cut the butternut (this preparation will take you about 10mins)

Using a sharp knife or a mandoline slice the butternut squash about ½ cm thin slices

Add some salt to the cooking spices with onions and stir well

Now top the onions by placing the butternut medaillons on top closely together

Add the vegetable broth and sprinkle with some little salt. Increase the heat till the boiling takes place then lower it.

Let the butternut squash cook for about 5 mins while you cut the sweet potatoes

Peel the sweet potato if they're not organic or if the skin is damaged

Just like with the butternut, slice sweet potato into medaillons

Place these medaillons on top of butternut placing them close together like in gratin recipes

Sprinkle the sweet potatoes with some little salt

Add the coconut milk and let the dish simmer again till the sweet potatoes on the top are soft but firm, check using a fork

Remove from the heat, let the dish cool covered before serving

Garnish with fresh herbs (optional)

This sweet potato side dish goes well with veggies or can be enough on its own.

Enjoy this savory spicy sweet potato dish, thank you for sharing and pinning this recipe on Pinterest healthy boards.
Notes
You can use 2 small butternuts instead of a large mature one because the small buternuts have a tender skin and they're easy to cut. Don't peel them.
I used both white and orange sweet potatoes, but you can just stick to one of your preference.
If you can't slice these veggies into mendaillons, just cut them the way it's easy for you.
You can leave out the squash and add an extra white sweet potato
Keep the extremes of sweet potatoes, and use them in your homemade vegetable broth.
Depending on the size of your medaillons, this spicy dish can take longer or shorter time to cook. Just check not to over cook it.