Learn how to cook buckwheat groats without it turning mushy. Buckwheat has a nutty flavor with a soft texture. You can incorporate it into your breakfast, lunch, or baking.
Hi hi, how do you do my friend? We are back in lockdown here!
Have you ever cooked buckwheat and wondered what you did wrong because it became mushy?
I am here to rescue you from those kitchen frustrations! I love buckwheat, and it's the first thing I turned to when I started on a gluten-free diet.
Buckwheat integrated well in my cuisine, it doesn't have that pronounced flavor, so it can go well with a lot of vegetables. It's great for baking as well and for making pancakes like these perfect buckwheat pancakes made with apple sauce
What is buckwheat
When you hear or read about buckwheat, you'd tend to think it's related to wheat. But buckwheat and wheat are not all related.
While wheat is a grain, buckwheat is a seed of a plant related to the rhubarb family.
Buckwheat is among the first domesticated crop and thought to have originated from South Asia. It's now mostly consumed in Europe and Russia.
Buckwheat groats are light brown with some greenish color when freshly removed from their hull.
Since they contain fat, buckwheat groats can go rancid if stored for a long time.
There are two types of buckwheat groats that you'll find in groceries. Raw groats and kasha which is actually toasted buckwheat.
Is buckwheat gluten-free
Let not the name confuse you, buckwheat has no gluten as it is with wheat. It's a super seed you can use to replace gluten in your baking.
Perfect alternative for those who are having gluten sensitivities, gut health issues, inflammation, etc...
Buckwheat benefits
Buckwheat is a superfood with high nutritional value that has shown to provide various health benefits
It's high in manganese, copper, magnesium, phosphorus, and fiber
It has essential amino acids and is low in Glycemic Index
Studies have linked the consumption of buckwheat to the reduced risks of developing high cholesterol and high blood pressure.
In another study comparing buckwheat and wheat bread, buckwheat groats lowered blood glucose in the blood, thus making it suitable for diabetes.
Buckwheat is anticancer, anti-inflammatory, and helps in neuroprotection.
Cooking with buckwheat
It's easy and simple to cook buckwheat.
Buckwheat groats are served as an alternative to rice, wheat grain, quinoa, etc...
Buckwheat is milled to make flour, but with your blender, you can blend groats and make pancakes like these gluten-free buckwheat groats pancakes
You can enjoy it as porridge for breakfast or have these caramelized buckwheat groats
Don't hesitate to add buckwheat to your salads
Cooking buckwheat
There two ways to cook buckwheat groats. They both take roughly 20 mins.
You can soak groats for at least 1 hour, rinse and cook. This method will yield a very soft buckwheat. When you soak buckwheat, it becomes gelatinous. This is a good way to make buckwheat porridge.
The other option (the one I am showing you here) is to get raw groats. Toast them and simmer them in some water. This will give you crunchy buckwheat groats that you'll enjoy chewing.
When cooking the second option, I prefer not cleaning the groats, but rather toasting them for more flavor.
In this method, you are going to add some spices. I tell you, you'll love eating buckwheat.
Before toasting, I like to sieve the groats to discard the fine particles and the dust.
Make sure to use boiling water. Be very careful when adding water into the toasting buckwheat, the saucepan is hot so pour water little by little!
Check also how to cook millet the best way
For the cooking steps, please see the recipe card.
How to store cooked buckwheat
You can opt to cook a lot of buckwheat for your weekly meal pre. Buckwheat will store well in your fridge for up to a week. Make sure to conserve it in an air-tight container.
You can also freeze cooked buckwheat. Just remove it to thaw an hour before meal.
To use stored buckwheat, just warm in in a low heat, you can some little amount of water.
Now that you have learned how to cook buckwheat groats perfectly, I am looking forward to reading what you are serving it with, be free and creative, you'll love eating buckwheat.
Thank you for sharing this recipe using the social buttons on the sidebar.
Till next, stay safe. My love to you, Githu.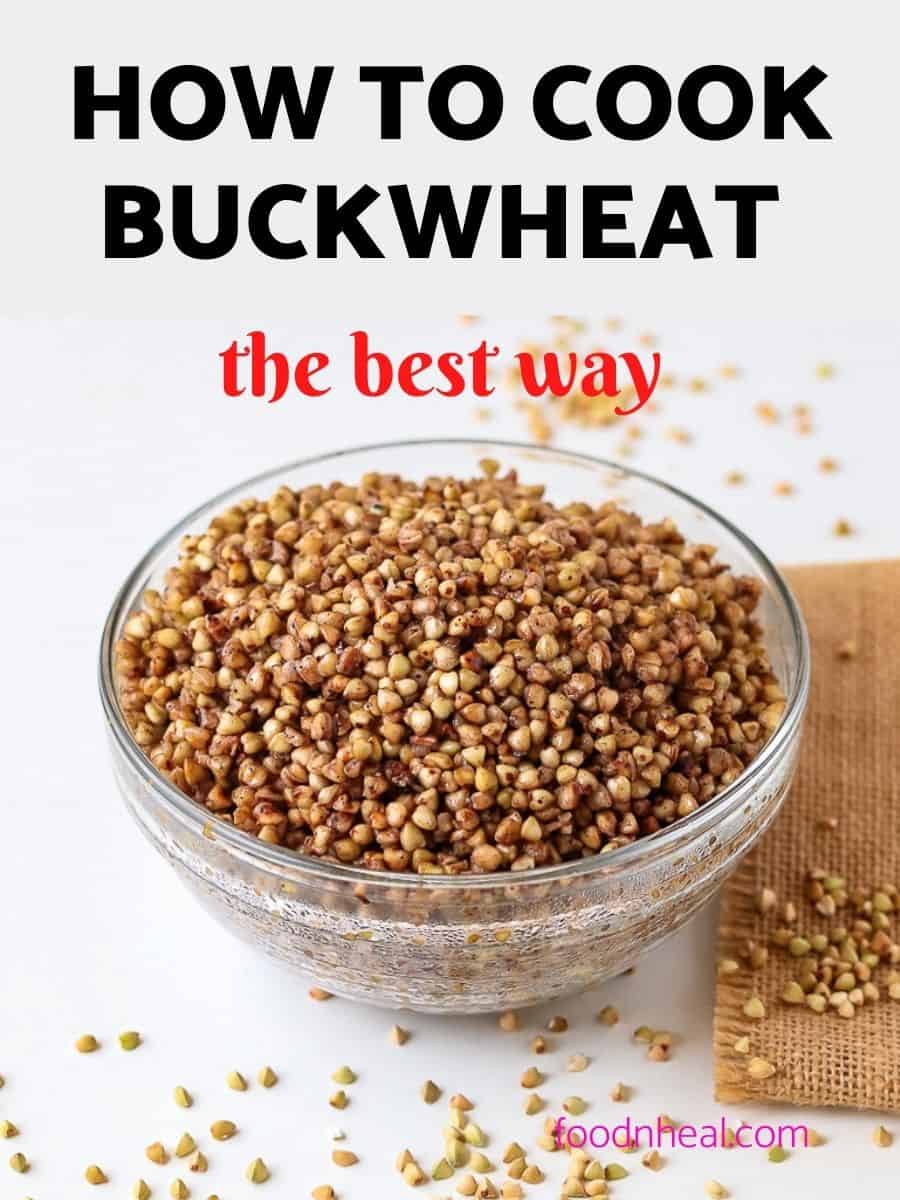 Get more buckwheat recipes
How to cook buckwheat groats perfectly
Learn how to cook buckwheat the best way and enjoy this gluten-free seed in almost your meals
Ingredients
2

cups

raw buckwheat groats

1

teaspoon

all spice or cinnamon or ginger or cumin

pinch of salt

3

cups

boiling water

2

tablespoon

cold-pressed olive/coconut oil
Instructions
Heat your pan and pour dry buckwheat groats

Toast at moderate-high heat and keep on stirring to avoid burning the groats

You'll smell and see the toasting, add spices and salt. stir well

Lower completely the heat and wait for a minute

Gently, pour a little amount of water at a time stirring till the bubbling reduces

Increase the heat till boiling takes place.

Cover the groats and leave them to simmer till all the water is absorbed

You'll hear a kind of rainy noise when the water is absorbed completely

Cut off the heat, add oil and gently stir the groats to mix with oil

Cover and wait to cool. You can serve your buckwheat hot or cold

Cooked buckwheat will store well in a closed container in your fridge for up to a week.

Thank you for sharing this recipe. Many blessings.
Resource
https://pubmed.ncbi.nlm.nih.gov/27046048/