Try out something totally new with these mung bean vegan pancakes! They're gluten-free and only using natural sugar from plantains. Enjoy these vegan pancakes while still hot, they're super good...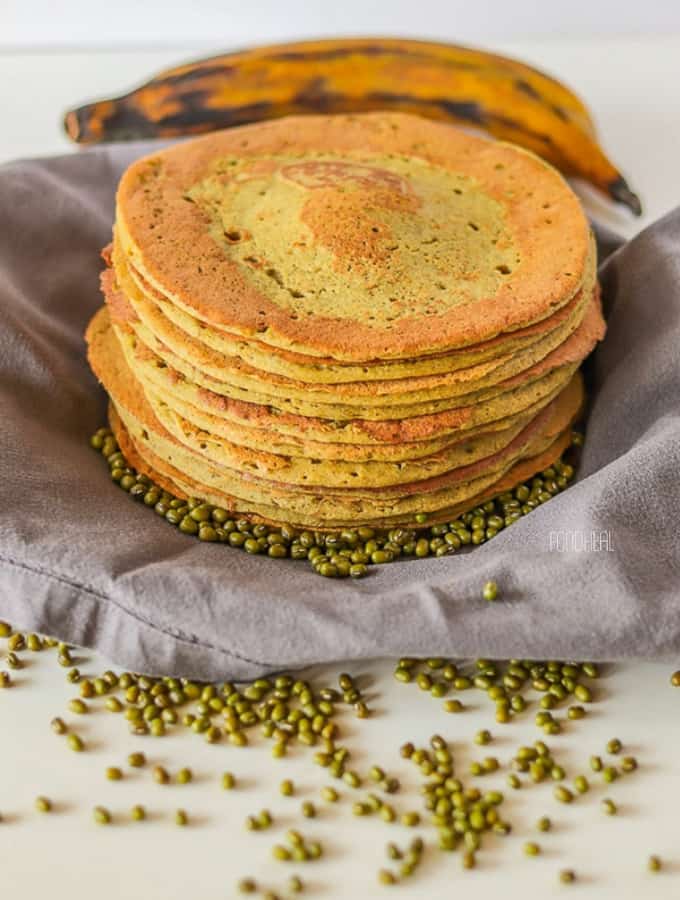 Hi beautiful, I do hope you're having a lovely weekend.
Have you ever been invited to a friend's or family house for brunch and you feel like you want to decline the invitation because gal, you'll starve yourself if you are vegan and/or glutenfree? Here I've got mung bean vegan pancakes that you can take with you and surprise your host!
"Mung beans? I don't even know what in the world that is!"
Oh! darling, that sounds fantastic. At least you'll learn something new with this.
I'll tell you a little about mung beans:
Mung beans are common in Indian cuisine where they originated, they are called moong dal.
LU dou (mung beans) have been used for ages in Chinese cooking especially as mung beans sprout, likewise, they are popular in African dishes especially in Kenya where they're known as Ndengu.
Do you want something exciting?
Chinese herbal medicine has been using Mung beans for centuries against inflammation. Additionally, they help to cool the body during high heat season and not to mention they are used on the skin ulcers or burns as they expel toxins from the wound.
Have you read a million times that you have to stay away from legumes? I got here a good reason to make you buy yourself a packet of mung beans during your next shopping!
Because…. in both Chinese and Ayurvedic medicine, mung beans are used as a body detox. These small beans can remove toxins from your body!
Studies done on mung beans, have shown that they have anti-inflammatory properties especially when they're fermented, a piece of good news for you and I who are combating Rheumatoid Arthritis. Right?
"I can't believe it, eating beans as a detox!"
Yep, me too I was like what? This is amazing!
How to make mung bean vegan pancakes
I like soaking my beans for about 24hours( but you can soak them for 12hrs) and I add a little pinch of Bicarbonate soda. This makes them easy to digest and reduces lectins.
I sweeten these mung pancakes with banana plantains. Although you can use bananas, I find plantains add more energy and since they're high in potassium than classic bananas, they're a good bet.
Plantains have fiber which will help in relieving constipation and other digestive conditions.
Did you get that? If mung beans can be hard to digest, the plantains will counteract by easing the digestion, youpi!
To choose the best plantains for your mungo bean vegan pancakes, choose the dark ones as they have a higher concentration of sugar than the yellow ones. Since I don't add sugar in my mungo pancakes, very ripped bananas or plantains will be ideal.
I used homemade coconut milk, which you can learn how to make yours too.
Improve the taste
Although you might not feel the sugary taste in these mung beans vegan pancakes, especially if you do take sugar in your life( which you really shouldn't), it's necessary to note the importance of eating to heal. Eliminate what can aggravate your inflammation! and sugar is one of your major enemies.
My kids and I normally use peanut butter or slightly cooked fruits to spread on our mung beans pancakes, in this way they don't need to add any sweetener. If you want you can slice well-ripped bananas on the mung bean pancakes to improve the taste.
Use raw honey or maple syrup but don't overdo it, my dear.
Now it's time for me to wish you wonderful cooking and please enjoy your present moment even if you are ill, remember you have the power to make yourself heal. And just enjoying the NOW, is one way to get there.
Tell me how you find these mung bean vegan pancakes
Just a little tip; enjoy them when they're hot. We LOVE them and hope that your family will love them too.
I am having you in mind, Githu.
You've some more healthy pancakes here
Mung bean vegan pancakes
Try out these mung bean vegan pancakes, they're healthy, gluten-free, and anti-inflammatory. We love them when they're still warm with some slightly cooked fruits
Ingredients
I

cup

dry mung beans (soaked)

3

black-ripped plantains

1

cup

coconut milk or cocnut cream

1

teaspoon

cinnamon spice (option)

1

teaspoon

salt

1

teaspoon

baking powder

1

teaspoon

bicarbonate of soda

1

tablespoon

vinegar (coconut for me)
Instructions
Wash and soak the mung beans overnight. Then rinse them

In a blender bring the coconut milk.

Add in the salt, spice, baking soda, vinegar, and bicarbonate of soda.

Peel the plantains by cutting off the extremities then cut lengthwise to open up the skin. Slice them into big pieces, and add them in the blender.

Blend this starting with low speed, then at a high speed. 

Depending on your blender, see if you need to add a little bit of milk or water. A High-speed blender will work this very easily into a smooth batter.

Let it sit for 10-15 minutes.

Cook your mung bean vegan pancakes on medium heat.

Enjoy these vegan pancakes when they are hot, wrap the remaining with a kitchen towel, and put them in a freezer bag to avoid them from drying.

PS: These pancakes have less sugar than classic pancakes with. Read the post to find how you can improve the taste.

Thank you so much for pining and sharing
Nutrition
Serving:
0
g
|
Carbohydrates:
0
g
|
Protein:
0
g
|
Fat:
0
g
|
Saturated Fat:
0
g
|
Polyunsaturated Fat:
0
g
|
Monounsaturated Fat:
0
g
|
Trans Fat:
0
g
|
Cholesterol:
0
mg
|
Sodium:
0
mg
|
Potassium:
0
mg
|
Fiber:
0
g
|
Sugar:
0
g
|
Vitamin A:
0
IU
|
Vitamin C:
0
mg
|
Calcium:
0
mg
|
Iron:
0
mg