Learn how to sautee your broccoli quickly by using bicarbonate of soda. Your sauteed broccoli will be ready within no time! No blanching is required.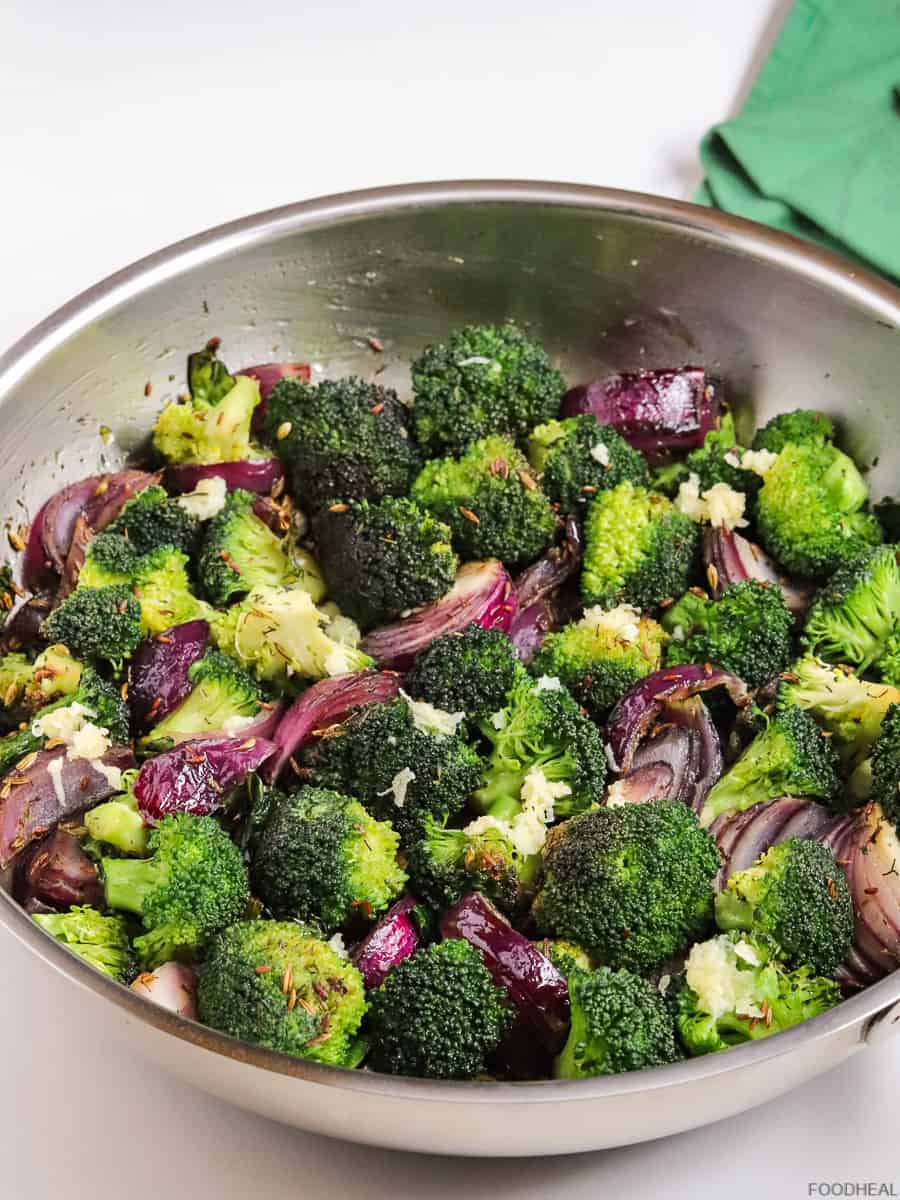 Ahem! I've got a secret for you on how to quickly sautee or stir-fry your broccoli! Learn how to sautee broccoli quickly without blanching using bicarbonate of soda.
My dear friend, I hope you love broccoli. If not, what else?
Broccoli are so healthy and delicious whether in salads, roasted, stir-fried, or sauteed. Raw or cooked, broccoli will confer you their healing properties if you eat them regularly and if you know how to prepare them properly!
Broccoli health benefits
Broccoli has been studied for its health-promoting properties. It's high in phytochemicals like glucosinolate, sulforaphane, vitamin C, phenolic compounds, carotenoids, and flavonoids.
Broccoli will give you minerals such as calcium, phosphorus, potassium, and sodium), with vitamins B, C, E, and K.
Several studies have shown that broccoli can reduce the risk of some cancers like lung, colon, pancreatic, breast, bladder, and prostate cancers.
Broccoli can help in preventing cardiovascular and Alzheimer's diseases if eaten quite often.
It has antioxidants making it an anti-inflammatory food to add to your diet!
Sauteed broccoli is one of the delicious side dishes that is quick to make if you've got the right technic.
In many recipes, you'll find broccoli blanched before being sauteed, this isn't a good way of cooking because it degrades the nutrients in broccoli, as you end up throwing the water used in blanching.
In general, heat will destroy some of the broccoli's nutrients but shortly sauteing them can reduce the loss of some heat-sensitive nutrients.
Studies have shown that cooking onions (especially red) together with broccoli can help protect the loss of the nutrients found in broccoli.
Making quick dinner recipes is a challenge to many, especially if you've got a busy life. In this post, I am showing you how to sautee broccoli quickly without blanching them.
How to sauteed broccoli quickly
Buy fresh broccoli heads. This recipe doesn't use frozen broccoli.
Clean and cut broccoli florets. Make sure to get single bite-sizes only so that the broccoli can cook fast.
In this recipe, I am using red onions. Dice the onions into thick slices than you'd do normally
Add spices or seeds like cumin & fennel seeds to enhance flavors and to add healing properties.
Add oil, onions, and broccoli florets to the cooking pan.
Toss then sprinkle with salt and a pinch of bicarbonate of soda.
Use only a little amount of bicarbonate of soda. Too much will alter the taste of broccoli and will breakdown broccoli into mushy.
Toss again and cover the pan. Don't cook at very high heat to preserve the nutrients.
Insert a knife's edge on one broccoli to test the cooking
DO NOT OVERCOOK!. The bicarbonate will make them mushy.
Cut off the heat, add grated garlic, cover the broccoli to cool for about 5 mins before serving.
I add garlic at the end to enjoy its healing benefits.
Serve these sauteed broccolis as a side dish, or you can add them into your stews or combine them with other veggies like these roasted roots vegetables.
As you've guessed, bicarbonate of soda is a key ingredient when you want to shorten the cooking time, especially for vegetables.
It also creates an alkaline environment that preserves the chlorophyll, giving your vegetables that bright green color.
I hope that this recipe post is helpful, and you can now sautee broccoli very fast to save time and to reduce the loss of nutrients. Have you learned something new? Leave me a comment.
My love to you, Githu.
Get more healthy recipes using broccoli
Recipe
Learn how to sautee broccoli quickly without blanching
Learn how to sautee your broccoli quickly by using bicarbonate of soda. Your sauteed broccoli will be ready within no time! No blanching is required.
Equipment
Heavy-based large pan

Chef's knife
Ingredients
½

teaspoon

cumin seeds

½

teaspoon

fennel seeds

½

teaspoon

dry dill

4

small red onions or 3 medium

3-4

broccoli heads

pinch of salt

¼(1.25ml)

a very small amount of bicarbonate of soda

4

cloves of garlic
Instructions
Separate the broccoli florets from the stems. Don't leave any stems. Use them in a broth

Slice thinly the onions and grate the garlic cloves

On a heating pan put the seeds and dill. Let them cook to give their aroma for 2 mins

Add sliced onions and broccoli florets.

Toss and then add olive oil, sprinkle the broccoli with salt and a powdered bicarbonate of soda

Toss again to make sure the onions and broccoli are moving around the pan

Cover the pan, let the broccoli cook for about 3 mins then toss again

Cook for another 3 mins and toss

Cut off the heat, add the grated garlic, and cover so that the steam and heat from broccoli can slightly cook the garlic

Serve the sauteed broccoli once they have cool.
Notes
Bicarbonate will breakdown the structure of broccoli making them to sautee very fast. SO MAKE SURE TO USE JUST A LITTLE 
If you add too much bicarbonate, the broccoli will become mushy
Too much bicarbonate will also change the taste of broccoli
I use finely powdered bicarbonate of soda
Resource
Broccoli glucosinolate